Sunday, September 13th, 1:00 pm to 6:00 pm,
Main Street, from Crown Park to Hinman Avenue

What
On September 13, a mile of Main Street, from Hinman Avenue to Crown Park, will be open for community, art, play, and exercise. We invite everyone to enjoy Evanston's streets and all the life and culture on display. Streets Alive promotes physical activity, local culture, and environmental awareness. It connects people and neighborhoods, and provides our community with a wonderful new experience of Evanston.
For Streets Alive 2015, CGE is partnering with the Evanston Environmental Association to bring the Evanston Green Living Festival to Main Street, in order to share a comprehensive environmental vision and tools with a wider audience.
Streets Alive 2014 drew between 10,000 and 15,000 people to Main Street, as much as 20% of the entire Evanston population. Thousands more learned about the event through extensive media coverage.
Why
Evanston Streets Alive! is an open streets event, one of the most potent developments in the livable cities movement. Streets Alive creates new open space where Evanstonians can freely walk, bike, and play, and enjoy art, culture, and community. Livability means healthy citizens and a healthier environment for Evanston.
Motorized vehicles are a major source of Evanston's greenhouse gas emissions, and excessive motorized traffic contributes to lower air quality, lower quality of life and shortened life spans. Streets Alive and CGE's other Pro-Walk, Pro-Bike, Pro-Place projects encourage a culture of greener, healthier transportation. These forms of active transportation improve health, reduce harmful emissions, and create a safer, friendlier, more vibrant public realm, which in turn encourages more walking and biking.
Streets Alive also encourages the community to collectively reimagine and repurpose our precious public spaces. Although car-free streets are temporary, they help us visualize different ways to use these spaces, and they demonstrate the pent-up demand for permanently safe, complete streets and vibrant, people-oriented open spaces.
Now Accepting Sponsors for
Evanston Streets Alive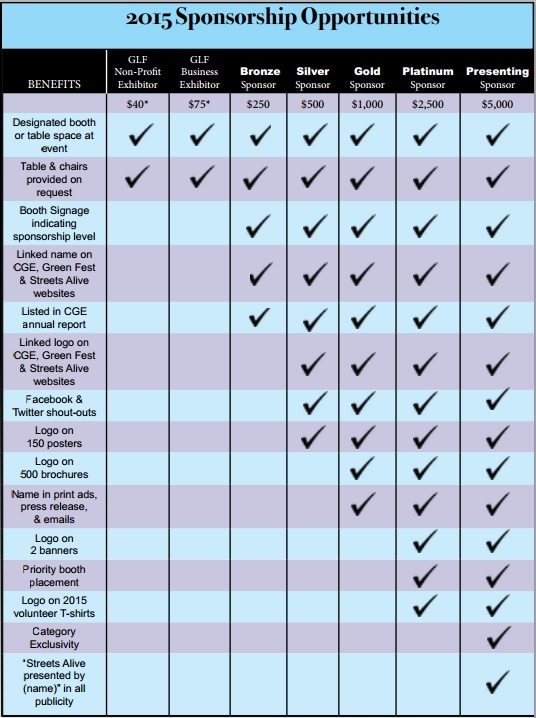 Endorsements
"Streets Alive gives Evanston community members an opportunity to experience our public streets like never before. This free event is a great way to enjoy our beautiful city, meet your neighbors, support local businesses, and celebrate car-free modes of transportation."
– Evanston Mayor Elizabeth Tisdahl
"Streets Alive was the biggest, greatest community event in years."
– Evanston City Manager Wally Bobkiewicz
"Streets Alive not only helps us visualize new ways to utilize and enjoy our precious public space, but it also allow us to connect with our neighbors and friends, and grow closer as a community."
– Illinois State Senator Daniel Biss
"Streets Alive is an event that promotes healthy lifestyles and making connections through community engagement and mutual understanding. At ETHS we share the same goals for our students and staff. This is a great opportunity for us to join hands throughout our community to achieve an even stronger quality of life for people of all ages in Evanston."
– Evanston Township High School District 202 Superintendent Dr. Eric Witherspoon
"The Evanston Bicycle Club, with over 500 active members in Evanston, the North Shore and Chicago, is pleased to join 'Streets Alive!' in support of cycling in Evanston." – Evanston Bicycle Club Board Member David Boyce
"Streets Alive is a great way to showcase the uniqueness of Evanston and bring neighbors together to enjoy a wonderful weekend."
– Illinois State Representative Laura Fine
Pro-Walk, Pro-Bike, Pro-Place
CGE is recruiting volunteers for Pro-Walk, Pro-Bike, Pro-Place, a 12-month initiative for safer walking and biking and better quality of place. We are planning programs to bring underrepresented communities into the bike movement.
"Back in the Saddle Again," took place February 4th with a sequel on April 22. These events for the senior community featured bicycle education, inspiration and encouragement, and senior-friendly bikes. Join us to help plan pop-up parks, free bike rides and tours, bike safety videos, a Walking School Bus, and bike encouragement and education programs. We meet the second Monday of each month at 6:00 pm at the Civic Center.
Take our project interest survey  or contact EvanstonStreetsAlive@gmail.com to get involved.