The Watershed Collective committee plans to meet 9 times over the coming several months. 9 is for the number of wards in Evanston and for the number of action items listed under the Water for the Climate Action and Resilience Plan. Our goal is to research Evanston's waterscape: issues and opportunities, and then determine what a citizen group such as ours can contribute to solutions. By November we will have a sense of the utility of this particular committee, or task force, and determine in what way we will continue to exist.
By Our values are informed by our understanding of ourselves as water rich in a time of global freshwater scarcity. How can we manage our water with compassion, with a long view and with joy?
While we are a CGE entity, we are made up of water enthusiasts: students, engineers, staff to elected officials and gardeners from across Evanston. We are working in alignment with the Environment board so that the water work being done in Evanston is as strategic and laterally organized as possible.
Our meetings will take place the 4th Thursday of the month 4-5:30 at a public location in each ward (location to be disclosed on the CGE website or by becoming a part of the mailing list water@greenerevanston.org). We will invite that ward's Alderperson to listen in or share water concerns from his or her ward.
January 24 was our inaugural meeting
Ward 1 February 28 Prairie Moon
Ward 2 March 28
Ward 3 April 25
Ward 4 May 23
Ward 5 June 27
(NO meeting July)
Ward 6 August 22
Ward 7 September 26
Ward 8 October 24
Ward 9 November TBD
Watershed Collective also hosts adult education events at the Arrington Lagoon building near Clark Street Beach.
Spring talks are on the following Saturdays from 10-noon:
3/2 – A discussion of The Chicago River: a Natural and Unnatural History, Revised edition with author Libby Hill
4/27 – A discussion of the North Branch Dam with Dick Lanyon and John Quail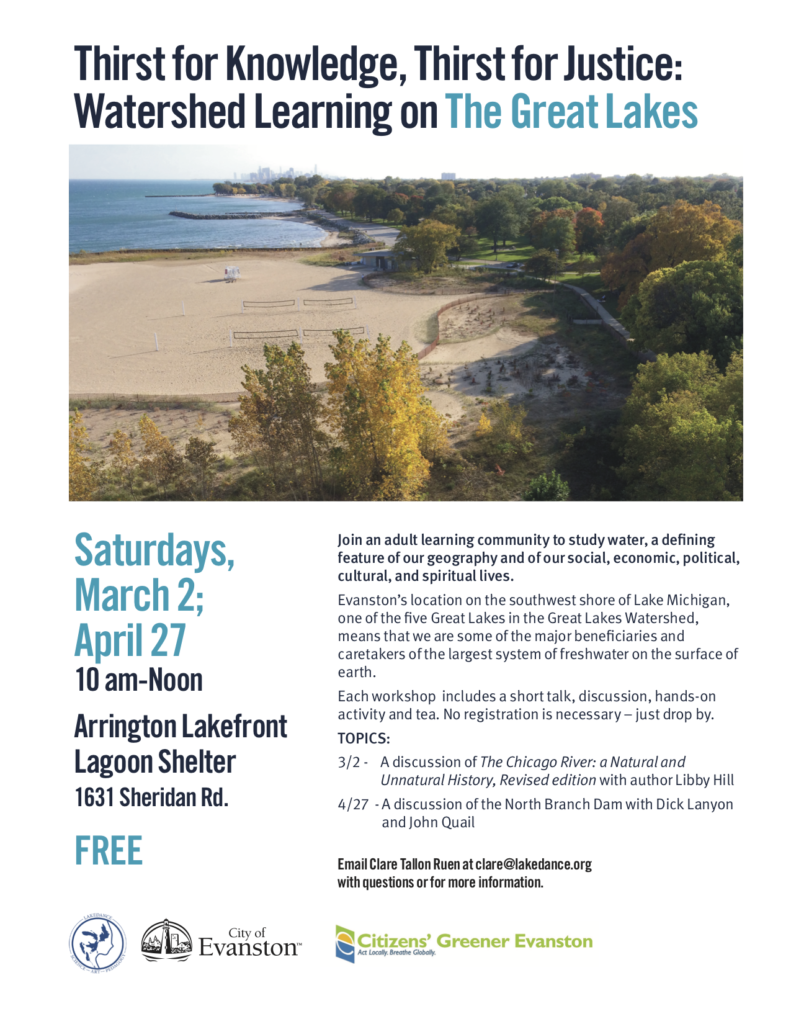 Here's some more information about these talks.