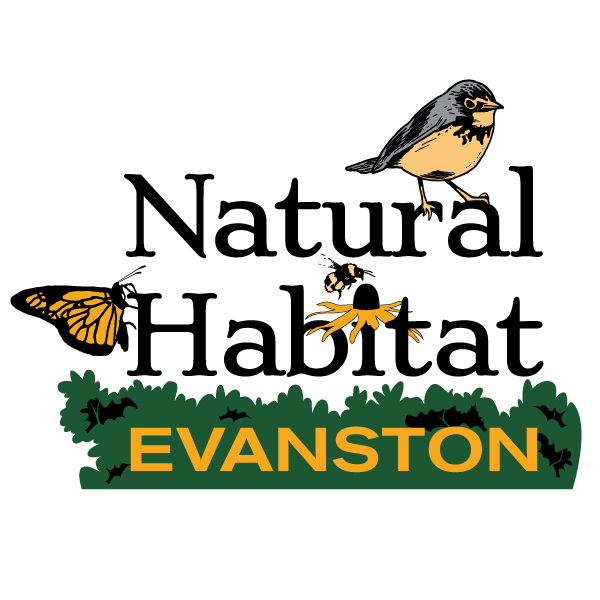 CGE's Climate Adaptation Task Force is bringing together interested individuals, organizations, and businesses to help Evanston achieve National Wildlife Federation certification as a Community Habitat for birds, bees, butterflies, and other pollinators.
This initiative, Natural Habitat Evanston, envisions an Evanston of green spaces welcoming to birds and pollinators — and a community culture that nurtures them and creates, restores, and conserves the habitats on which they depend.
What is the mission of Natural Habitat Evanston? Natural Habitat Evanston engages our diverse community and collaborates among residents, government, businesses, schools, nonprofits, places of worship, clubs, and others to —
• Certify Evanston as a National Wildlife Federation (NWF) Community Habitat.
• Create, restore, and conserve habitat that birds and pollinators need to thrive.
• Educate the community regarding the needs of birds and pollinators, such as reducing pesticides and chemical fertilizers and encouraging native plants.
• Create bird- and pollinator-friendly habitat corridors that reach across the borders of Evanston to our neighboring communities — because creatures like butterflies don't stop at city borders.
Our work is critical: human beings are part of our ecosystem, and we need a healthy environment. If Evanston is safe for birds and pollinators, it is also safe for us. We rely on bees, butterflies, and other insects to pollinate our food plants and gardens. We need birds to disperse seeds and to keep nuisance bugs at bay in a manner gentle to the environment.
Right now, many birds and pollinators are in decline worldwide from pesticides and other chemicals, habitat loss, a changing climate, and other threats. Many species that need our help, such as monarch butterflies and Canada warblers, use Evanston habitats in summer or during spring and fall migration.
About Natural Habitat Evanston Currently, about 130 Evanstonians are involved in Natural Habitat Evanston initiatives. Schools and places of worship have certified their gardens. Four community gardens owned by the City have been certified as habitats. With leadership from the Public Works Department and the Office of Sustainability, the City has been a key participant in creating habitat for birds and pollinators and helping provide community outreach. Mayor Tisdahl has issued a proclamation committing the City to helping pollinators and encouraging Evanstonians to do the same.
Natural Habitat Evanston Partners (as of 3/1/2016)



Canal Shores Golf Course
Citizens' Greener Evanston
City of Evanston
coLab Evanston
Design Green Living
Edible Evanston
Evanston Environmental Association
Evanston North Shore Bird Club
Evanston TreeKeepers
Green Edens
Greenwise
Heirloom Landscapes
IDG Innovative Design & Graphics
Jewish Reconstructionist Congregation
Lake Street Church
Living Habitats
logic-lawn-care
National Wildlife Federation
Wild Onion Yoga
Join the Conversation with the Natural Habitat Evanston Facebook Group.
Who can certify their properties — and how? Natural Habitat Evanston encourages homeowners, schools, houses of worship, businesses, institutions, and the City to earn NWF certification for their properties by (1) providing the four basic elements that all living creatures need — food, water, cover, and places to raise their young — and (2) reducing or eliminating the use of pesticides and herbicides. Find out more here.
What does certification as a NWF Community Habitat require? For the City of Evanston to be certified as a NWF Community Habitat, at least 200 residences, six public areas (e.g., parks), and five schools need to earn NWF certification. Through such activities as workshops, garden walks, and park cleanups, the community must also raise awareness and educate residents about sustainable gardening practices, such as reducing or eliminating chemicals, conserving water, encouraging native plants and trees, composting, and more. So far, more than 70 homes have joined places of worship, community gardens, schools, and others in working towards certification. The City is very engaged, restoring Ladd Arboretum and planting many bird and butterfly gardens in our parks.
How can you help?

Why Become a Community Habitat? Birds and pollinators need our help. Many species are in decline worldwide due to loss and degradation of habitat and improper use of pesticides and other chemicals.
Our location on the shore of Lake Michigan makes Evanston a prime spot to create and protect healthy habitat. Over 275 bird species migrate through the Chicago area each spring and fall. They fly over the lake all night and arrive here hungry and exhausted, in need of food and shelter. Numerous other bird species live here year-round and need places to nest and raise their young.
Evanston has a critical role to play in providing for endangered pollinators, too. Our monarch butterfly population has declined by 80 percent from its average of the past 20 years. Some species of native bees (which as a group do the yeoman's share of pollination) are also in steep decline, again due to habitat loss and pesticide use.
By creating, restoring, and conserving the habitat that birds and pollinators need to thrive, and by reducing the use of insecticides and chemical pesticides and herbicides, our community will be a healthier place for birds and pollinators — and for humans, too.
Why Are Pollinators Important? Pollinators move from plant to plant, searching for protein-rich pollen or high-energy nectar to eat. As they go, they are dusted by pollen and move it to the next flower, fertilizing the plant and allowing it to reproduce and form seeds, berries, fruits, and other plant foods that form the foundation of the food chain for other species — including humans. Pollinators are themselves important food sources for other wildlife. Countless birds, mammals, reptiles, and amphibians eat the protein and fat-rich eggs, larvae, or adult forms of pollinators, or feed them to their young. Pollinators play a critical role in the food supply for wildlife and for people!
Bees are well-known pollinators, but over 100,000 invertebrates — including butterflies, moths, and beetles — and over 1,000 mammals, birds, reptiles and amphibians, act as pollinators. Pollinators worldwide are in decline. Habitat loss, invasive species, parasites, and pesticides are largely to blame.