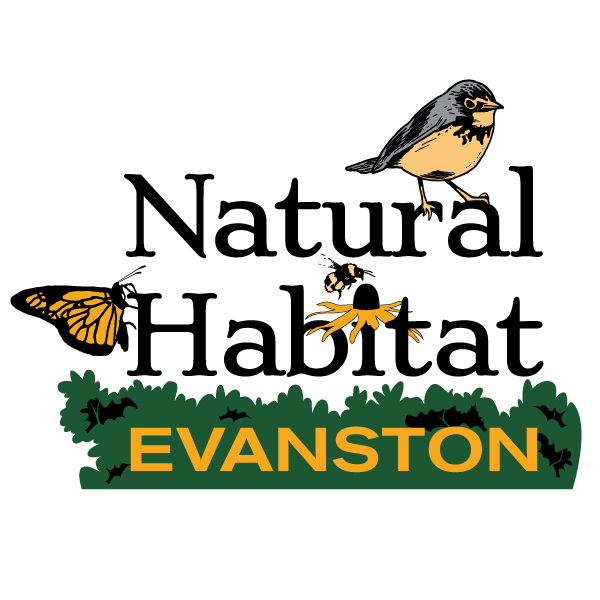 Natural Habitat Evanston works with the City of Evanston, community leaders, schools, faith groups, nonprofits and others to:
Create, restore and conserve natural habitat
Encourage public and private policies that enhance habitat
Raise awareness regarding the value and needs of trees, wildlife, and our natural heritage
Enhance equitable access to natural habitat for our community health and prosperity
Restore habitat corridors that cross to our neighboring communities and are more robust because of their increased scale — because creatures like butterflies don't stop at city borders.
What Are We Working On, and How Can You Help?
The Fund for Evanston Trees — help supplement City efforts to preserve our public elm trees.
The Channel Habitat Fund — private donations and matching grants support the continued restoration and expansion of natural habitat in the Ladd Arboretum and Harbert-Payne Park.
Provide more butterfly gardens and bird habitats in Evanston — Help schools, faith groups, home gardeners and others expand butterfly gardens and natural habitat. Keep Evanston certified as a National Wildlife Federation Community Habitat.
Lose the lawn, leave the leaves, ditch the pesticides and chemicals — Spread the word and help birds and insects. Learn more about taking the "Pollinator Pledge."
The value of a tree — Join a tree walk and share information on the importance of trees. Help protect Evanston trees.
Recruit volunteers for habitat corridors and 'clumps' – Volunteer outside for City and community habitat restoration efforts – City of Evanston North Shore Channel Habitat program, Clark St Beach Bird Sanctuary and others.
Protect Isabella Woods — Stay vigilant to protect a remnant oak forest in north Evanston under threat of road development. Get the e-newsletter here.
Demonstration gardens — Use educational signs to describe how your garden grows sustainably.
Seed and plant swaps and give-aways — Propagate native plants in your home and help us share out plants to others.
We wish to thank the following companies for their generous support of our program with donations of seeds or plants




Get in Touch With Us
We welcome your questions and comments at Habitat@NaturalHabitatEvanston.org We also invite you to join the conversation with Natural Habitat Evanston's Facebook Group and to sign up for our NHE e-newsletter.
Wins and Accomplishments with the City and Community
Certified Evanston as a National Wildlife Federation Community Wildlife Habitat in June 2019.
Conducted outreach and events on sustainable garden practices that help pollinators and birds.
Certified @200 homes, schools and public properties as National Wildlife Federation habitat.
City proclamation to conserve the monarch butterfly plus 17 city action steps.
 Updated weed ordinance to allow milkweed.
 City education on healthy composting practices.
Upcoming NHE Events

Natural Habitat Evanston Partners (as of 2019)

Canal Shores Golf Course
City of Evanston
coLab Evanston
Design Green Living
Edible Evanston
Evanston Environmental Association
Evanston North Shore Bird Club
Green Edens
Greenwise
Heirloom Landscapes
Highland Garden Club of Evanston
Innovative Design & Graphics
Jewish Reconstructionist Congregation
Lake Street Church
Living Habitats
logic-lawn-care
National Wildlife Federation
Wild Onion Yoga

To become a partner, please email us at Habitat@NaturalHabitatEvanston.org. Partners encourage their members or customers to get involved, certify their own green spaces, if feasible, and offer other assistance. Partner logos are used on program materials.