Environmental Justice Evanston
Environmental Justice means that all community members experience the same degree of access to environmental assets, have protection from environmental hazards and health risks, and play an effective role in making decisions that affect the quality of life in this community.
Thanks to ongoing efforts by Environmental Justice Evanston (EJE), in September 2020 Evanston's City Council approved an environmental justice resolution for the City. With this major step accomplished, EJE is now working with the City to draft and have the City Council approve an environmental justice ordinance that will spell out the detailed changes in City processes and code necessary to achieve environmental justice in Evanston.
OUR MISSION and OBJECTIVES

Environmental Justice Evanston works to foster awareness and promote action on environmental justice within the City. Our objectives are to work collaboratively with the City, neighborhood organizations, and non-governmental organizations to:
1. Ensure that no neighborhood or residential area in Evanston bears a disproportionate burden of environmental nuisances, hazards, and risks, including:
Air, water or soil pollution
Noise or odor nuisances
Dangerous traffic patterns
Lead paint, asbestos and other toxins
Lead or other contaminants in drinking water
Other dangers, nuisances or disruptions
2. Ensure that environmental assets are fairly distributed across the community and that they have desirable features that support health, well-being, and a sense of community. Such assets include:
Parks, open space, and natural areas
Community gardens
Access to the lakefront
Infrastructure investments, including streets, sidewalks, bike paths, community centers and other recreational assets
3. Ensure that all residents affected by the City's land use or development decisions have the opportunity for meaningful involvement and effective participation. This may include:
Modifying the City's decision-making process related to review, approval and regulation of private development projects
Developing Environmental Justice guidelines for project evaluation by City staff to ensure development projects enhance community health, well-being and the environment in affected neighborhoods
4. Implement guidelines for meaningful citizen involvement to ensure:
Access to information in accessible, non-technical terms with sufficient lead time to allow participation
Scheduling informational meetings at times and locations convenient for affected residents
Soliciting comments in time for adequate consideration by decision-makers
Developing responsiveness summaries to document how concerns were addressed in the decision process
KEY INITIATIVES

Having helped the City reach the milestone of its environmental justice resolution in September 2020, EJE  is working with the City to draft and approve an environmental justice ordinance that will spell out the detailed changes in City processes and code necessary to achieve environmental justice in Evanston.
We continue working with the City to improve environmental conditions in the area of the city's Waste Transfer Station (WTS), based on input from the community. This initiative currently includes an effort to monitor air quality, conduct a traffic study, and measure the noise around the WTS site. See our essay in the Evanston RoundTable  on the study, "Final Air Quality Study Only a Beginning."
COMMITTEE MEMBERS
Janet Alexander Davis (co-chair)
Jerri Garl
Robyn McMurray Hurtig
Hank Neuberger
Tanya Noble
Andy Schlickman
Honorary members
Bea Echeverria
Dorothy Headd
MEETING SCHEDULE
The EJ Committee meets at 5:30 p.m. on the third Tuesday of every month. During COVID all meetings are virtual. For more information or to inquire about joining the EJE committee, please email: ej@greenerevanston.org
CONTACT US at ej@greenerevanston.org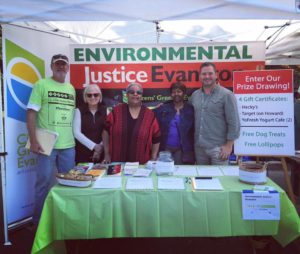 Pictured above: EJE members Rick Nelson, Jerri Garl, Janet Alexander Davis, Dorothy Headd, and Tim Eberhart (not pictured: Bea Echeverria and Tanya Noble).