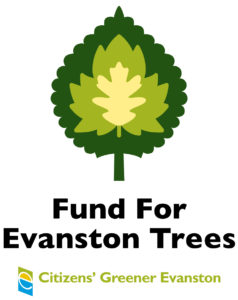 Help demonstrate our community support for City elm trees on parkways, in parks, and on other public lands. This special fund is administered by the Evanston Community Foundation (ECF) and is intended to supplement the City's efforts to reduce the devastating Dutch Elm Disease. It is also intended to help when public elm trees in underserved areas are infected and nearby residents cannot cover the cost of treatment. If elm treatment is fully funded or other events change the need for elm funding, the tree fund may support more broadly focused efforts for the care and maintenance of trees and green spaces throughout Evanston (public or private). Environmental justice for underserved neighborhoods and alignment with the City's Climate Action and Resilience Plan will guide fund spending decisions.  
To donate, send your check, payable to Evanston Community Foundation with "Fund for Evanston Trees" in the memo line to: Evanston Community Foundation, 1560 Sherman Ave. suite 535, Evanston, IL 60201.
Or contribute online via the Evanston Community Foundation and enter "Fund for Evanston Trees" in the 'Other Funds' box.  There is a 2.2% processing fee for credit card donations.